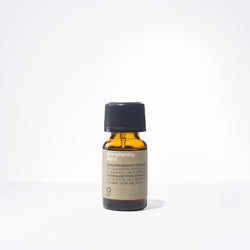 Oway Strengthening Essential Oil Blend

A 100% pure essential oil that stimulates micro-circulation in the scalp, promoting hair growth and strength.
Details
♥ Energizing blend of only 100% pure biodynamic essential oils
♥ Protective effect, preserving the hair shaft from oxidation
♥ Stimulates microcirculation of the scalp, promoting healthy hair growth and strength.
♥ Packaged in infinitely recyclable amber glass to protect ingredient integrity
♥ Cruelty-Free & Vegan
 
Does Not Contain:
✕ Parabens
✕ SLS / SLES
✕ GMOs
✕ Petroleum
✕ Phthalates
✕ Synthetic Fragrance
✕ Synthetic Ingredients
✕ PEGs, PPGs & BGs
✕ Artificial Colorants
Key Ingredients
Biodynamic Mint Essential Oil
 is an all-natural astringent to refresh and reactivate the scalp, promoting active hair growth and resilience.
Biodynamic Rosemary Essential Oil
 has antimicrobial properties and supports micro-circulation of the scalp, which is conducive to healthy hair growth.
Biodynamic Thyme Essential Oil
 has high thymol content, increasing the blood flow to the scalp and rejuvenating the hair follicles.
Biodynamic Lemon Essential Oil
 is rich in Vitamin C and antioxidants to revitalize lackluster hair.
How to Use
Our Oway Strengthening Essential Oil Blend is a great addition to add to your Oway hair baths and masks. It may be too strong to put directly on your scalp - so we suggest mixing a few drops in with your other Oway hair care products and then applying it to your scalp as a hair strengthening treatment. 
For best results, use with Oway Micro-Stimulating Hair Bath and Densifying Remedy.