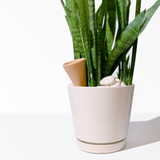 Cono Botanical Hydration System

Designed by Artigiano Oway and crafted by Italian master potters, the Cono Botanical Hydration System gradually transports water and nutrients to plants.
Once filled with water, the porous nature of the terracotta guarantees the gradual and prolonged release of water into the soil, keeping it moist for up to two weeks.
The system is perfect daily care of both indoor and outdoor plants or as an easy watering solution for when you're away.