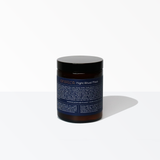 Onirica - Regenerative Night Ritual Mask

Onirica is a regenerative night mask for the scalp and hair. Relaxing, anti-stress neuro-cosmetic treatment has anti-hair-loss effects by strengthening and deeply nourishing the hair shaft. Thanks to the contained melatonin, it stimulates hair re-growth, promoting stronger and healthier hair. 
This is a true beauty sleep treatment that gives a luxurious, highly sensorial experience from the moment the product is applied, lasting all through the night. 
Signature Scent: A unique blend of notes that come together in an olfactory melody, transporting the senses to dreamy atmospheres. Ylang-ylang's soft, penetrating aroma guides you towards the intensity of Sandalwood and the sweetness of Vanilla, a relaxing journey that helps us disconnect from everyday stress and relax.
pH Level: 3.5-4.5
Size: 180ml
Details 
♥  Relaxing and anti-stress neurocosmetic effects
♥  Increases hair elasticity
♥  Eliminates frizz and retains moisture
♥  Strengthens the hair shaft
♥  Anti-hair loss and soothing effects
♥  Maintains healthy scalp microbiota
Key Ingredients 
Ylang-ylang is obtained without the use of heat through an innovative, 100% natural, and eco-sustainable technology based on ultrasounds. Native to Madagascar, it's found all over the Southern hemisphere. Its benefits have been renowned since ancient times. In fact, certain traditional cultures use ylang-ylang as both an anti-depressant and an aphrodisiac. It has both toning and sedative properties and is indicated for any kind of drop in energy. It has a sensual warm, and enveloping fragrance and is often added to cosmetics intended for relaxation treatments. The result is a feeling of calm awareness, wellness, and improved mood. This plant counters insomnia and stimulates circulation, boosting the organism's intrinsic capacity for regeneration. A powerful toner and soothing agent, it is ideal for treating dry skin and scalp, as well as preventing hair loss thanks to its toning and strengthening properties.
Shea Butter comes from the seeds of the African shea tree (Vitellaria Paradoxa), a tall and imposing tree that is considered sacred and is called "the tree of life and youth". African populations have used this ingredient since ancient times. Rich in antioxidants, phenolic compounds, essential fatty acids, and vitamins A, B, D, E, and F, shea butter has powerful cell-regenerating properties when it comes to dry and dehydrated skin. It soothes and heals the skin and is also an exceptional emollient and elasticizing agent. It fights frizz and defines curls. It's excellent for protecting the hair from the rays of the sun as well as combating skin aging. Thanks to its organoleptic compound, this concentrated boost of nourishment and hydration is particularly recommended for treating dry, damaged, or frayed hair. It delivers brilliance and softness to the hair shaft, preventing split ends and breakage.
Melatonin is a hormone produced by the pineal gland, which is located at the base of the brain. This substance affects the hypothalamus to regulate the circadian day-night rhythms, as well as seasonal bio-rhythms. Humans aren't the only ones who produce melatonin; plants and animals do as well. Melatonin occurs naturally in extra-virgin olive oil, rice, oranges, cherries, and tropical fruit. Outside of the pineal gland, other parts of the body that synthesize and regulate the metabolism of melatonin include the skin and hair follicles. Recent studies have also shown that this molecule slows cellular aging processes, regulates the skin barrier's function, regulates the hair growth cycle, and promotes the anagen phase. The International Hair Research Foundation has shown how increased hair loss can be caused by changes in the sleep-wake cycle involving decreased melatonin in the human body. In active follicle cells during the anagen phase, it acts as a scavenger that consumes free radicles and stimulates DNA repair. Its applications include treatments for androgenetic alopecia, which affects both men and women, as well as being a trusted ally in treating psychogenic alopecia.
Full Ingredients: Cananga Odorata Flower Water, Cetyl Alcohol, Crambe Abyssinica Seed Oil, Stearyl Alcohol, Distearoylethyl Dimonium Chloride, Triolein, Cetyl Alcohol, Butyrospermum Parkii Butter, Camellia Japonica Seed Oil, Hydrolyzed Rice Protein, Oryza Sativa Extract, Hydrolyzed Soy Protein, Ribes Nigrum Seed Oil, Sodium Hyaluronate, Bambusa Vulgaris Sap Extract, Nigella Sativa Seed Oil, Hydrolyzed Hemp Seed Extract, Hamamelis Virginiana Leaf Extract, Phytosterols, Ribes Nigrum Fruit Extract, Panthenol, Melatonin, Glycerine, Cananga Odorata Flower Oil, Santalum Album Wood Oil, Saccharomyces Ferment Lysate Filtrate, Vanilla Planifolia Fruit Extract, Diatomaceous Earth, Lecithin ,Leuconostoc/Radish Root Ferment Filtrate, Retinyl Palmitate, Glyceryl Dioleate, Tocopheryl Acetate, Behenamidopropyl Dimethylamine, Dipalmitoylethyl Hydroxyethylmonium Methosulfate, Sorbitol, Xanthan Gum, Oleyl Alcohol, Glyceryl Linoleate, Glyceryl Linolenate, Lactic Acid, Citric Acid, Sodium Benzoate, Potassium Sorbate, Benzyl Benzoate

An Important Note: Ingredients may change. For the most current ingredient list, please check your packaging. Any slight variation in the aspect of the product is due to the natural raw materials in the formula and does not affect the quality.
How to Use 
The gestures that make up the regenerative night ritual are divided into three moments.
Reactivation: Before applying the Onirica mask, use your fingertips to apply slow but firm pressure to your head, moving from the hairline to the nape of the neck. Inhale when applying pressure, exhale when removing pressure.
Application: Load the wooden spatula with Onirica and use it to apply the product the length of the hair, massaging it in, then apply the product to the scalp.
Relaxation: Smooth your hands around your head, from the hairline to the nape of the neck, inhaling deeply in order to draw the full benefits of the synergy of relaxing essential oils.
Cover with a turban or cap and leave overnight. Rinse out in the morning and proceed with the MyVeg cleanser. This ritual is recommended for us once or twice a week.