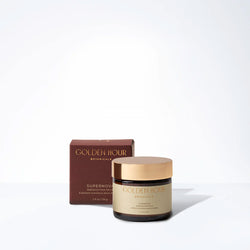 Supernova - Radiance Face Scrub

This pore refining scrub brightens and renews, improving skin's overall texture, tone, and appearance.
Details
♥ Supports cellular energy production and renewal, increasing the oxygen supply to the skin
♥ Encourages skin brightening from red and brown algae content
♥ Can reduce appearance of hyperpigmentation and appearance of age spots
♥ Natural astringent and skin revitalization properties to soothe and calm the skin
♥ Gently deep cleans, refreshes, and repairs the pores
♥ May increase the skin's elasticity
♥ Antimicrobial benefits promote clear skin
♥ Help stimulate collagen and elastin production
♥ Pumice exfoliates the skin and boosts circulation for healthier looking skin
♥ Helps provide glow and luster, bringing out skin's natural glow

Key Ingredients
Undaria Pinnatifida Cell Culture Extract is a rich source of nutrients. Among the benefits of applying brown algae to the skin are natural antioxidant properties from its polyphenols, hydration from its polysaccharides, and soothing effects.
Red Algae may increase the skin's moisture retention capabilities. It assists with hydrating, nourishing, brightening, and opening pores for deep cleaning, as well as increase skin's elasticity and reduce inflammation.
Brown Algae Extract helps support cellular energy production and renewal which increases the oxygen supply to the skin. Can brighten the skin and reduce the appearance of hyperpigmentation and age spots.
Indian Chriysanthellum is a natural astringent and skin revitalizer used in traditional medicine for its soothing properties. It can relieve skin irritations and help eliminate puffiness.
Wild Cherry Extract  is a potent source of antioxidants, notably several kinds of antioxidants known as polyphenols. The antioxidant benefits of this cherry can help defend the skin from the visible effects of airborne pollutants and assist in delivering skin-calming benefits. It's also a rich source of Vitamin C, which can brighten the skin.
Coenzyme Q-10 energizes cell activity needed to repair damage and make sure the skin cells are healthy. It can reduce sun damage due to its potent antioxidant quality and improve skin hydration. It also stimulates collagen and elastin production and may reduce the appearance of fine lines and wrinkles.
Pumice exfoliates to freshen skin, improving skin tone, reducing dry, rough skin, and boosting circulation, resulting in healthier-looking skin.
Turmeric Root Extract contains antioxidants and anti-inflammatory components that may provide glow and luster to the skin. Turmeric may also revive your skin by bringing out its natural glow.
Full Ingredients: Aloe Barbadensis Leaf Juice Organic, Pumice, Jojoba Esters, Glycerin Vegetable Organic, Undaria Pinnatifida Cell Culture Extract, L-Arginine, Chrysanthellum Indicum (Indian Chrysanthemum) Extract, Equisetum Arvense (Horsetail) Extract, Asparagopsis Armata (Red Algae) Extract, Ascophyllum Nodosum (Brown Algae) Extract, Astaxanthin, Olea Europaea (Olive) Seed Powder, Dl-Alpha Tocopheryl Acetate (Vitamin E), Niacinamide (Vitamin B3), Sodium Ascorbyl Phosphate (Vitamin C), Glycyrrhiza Glabra (Licorice) Root Extract, Prunus Serotina (Wild Cherry Extract, Alpha-Arbutin, Ubiquinone (Coenzyme Q-10), Curcuma Longa (Turmeric) Root Extract, Propanediol, Potassium Sorbate, Acrylates/C10-30 Alkyl Acrylate Crosspolymer, Iron Oxide, Sodium Benzoate, Phenoxyethanol, Ethylhexylglycerin, Hydroxyethylcellulose
An Important Note: Ingredients may change. For the most current ingredient list, please check your packaging. Any slight variation in the aspect of the product is due to the natural raw materials in the formula and does not affect the quality.
How to Use
Gently massage a generous amount onto dry skin using circular motions. Add warm water to emulsify for a soft scrub and rinse clean. Can be used 1-2 times per week as needed.