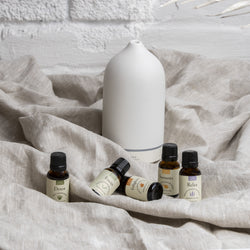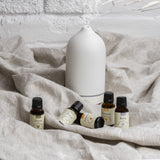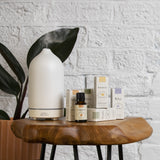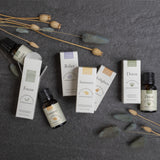 Simply Organic Essential Oils Apothecary Kit [SAVE 20%]

Transform your space into a relaxing haven with our Simply Organic Essential Oil Wellness Kit. Each kit comes with all five of our signature essential oils, including the NEW! Immunity Blend, and the Simply Organic Ceramic Diffuser. 
With its sleek matte stone design and quiet diffusion of these pure essential oils, you can create the ultimate beauty and wellness experience in your salon and at home.
Includes [SAVE 20%]:
1 -

 

Simply Organic Ceramic Essential Oil Diffuser
1 -

 

NEW! 

Immunity Essential Oil (15ml)

1 - Relax Essential Oil

 (15ml)

1 - Enlighten Essential Oil

 (15ml)

1 - Focus Essential Oil

 (15ml)

1 - Detox Essential Oil 15ml

 (15ml)
Details
♥ Create a relaxing, tranquil atmosphere with the luxurious scent of pure essential oils
♥ Natural mood boosters and chakra balancing benefits
♥ De-stress and detox your skin, hair, scalp and space
♥ Cruelty Free & Vegan
How to Use
For Aromatherapy Diffusing:
Use 3-4 drops of Essential Oil per every 100ml of water
For Topical Healing:
Note: Due to the high quality concentration of pure essential oils in our formula, it's highly recommended to use with a carrier oil for topical application.