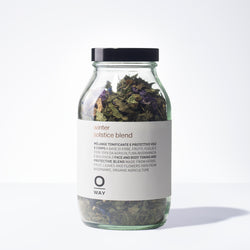 Oway Winter Solstice Blend

A blend of Biodynamic-Organic Rosemary, Thyme, Lemon Balm, Cornflower, Mallow Flower, Orange Zest and Peppermint that delivers toning and firming benefits to the skin.
Benefits 
• Fights against the formation of acne and redness
• Tones and firms skin lacking hydration and bounce
• Rebalances skin's sebum-production levels
• Enhances the effectiveness of other skincare treatments
• Cruelty Free & Vegan
 
Does Not Contain:
✕ Parabens
✕ SLS / SLES
✕ GMOs
✕ Petroleum
✕ Phthalates
✕ Silicones
✕ Synthetic Fragrance
✕ PEGs, PPGs & BGs
✕ Artificial Colorants
Key Ingredients 
Biodynamic Rosemary helps stimulate cell renewal, promoting healthy healing -- all while infusing the skin with moisture and improving circulation. It also helps rebalance skin's oil production levels.
Biodynamic Thyme contains all natural antibacterial and anti-fungal benefits that are effective in treating acne and eczema. Its also high in antioxidants, it can slow down the aging process and give you healthy and glowing skin.
Biodynamic Lemon Balm is calming, soothing, healing and tightening on the skin, while also stimulating circulation. It is thought to be great for acne and sunburned skin.
Biodynamic Mallow Flower has all natural astringent, bactericidal and anti-inflammatory properties which are effective in healing skin rashes, insect bites, pimples, eczema, acne and swellings.
Biodynamic Peppermint is known to balance the pH levels of the skin. This helps balance the production of excessive oils in the skin, thereby reducing overall acne and breakouts. The astringent, antiseptic and anti inflammatory properties of peppermint help diminish the appearance of acne, blackheads, rashes and redness of the skin.
How to Use
Used to enhance the effectiveness of our other body and face treatments, these versatile, herbal blends can be used by:
• Adding blend to hot-water activated pack and left on the face or body
• Adding blend to Oway Tea Bags and steeped in Oway Treatments Bowl, then used in place of water to remove cleansers, face masks and other skin treatments
• Adding blend to Oway Tea Bags and steeped in Oway Treatments Bowl, then transferred to a spray bottle to be used during and after skincare services to enhance effectiveness and treatment experience.