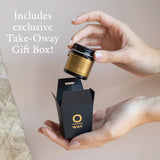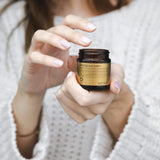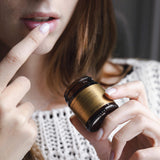 Oway Prodigious Balm

NOURISHING + REPAIRING BALM
Oway Prodigious Balm is an all-in-one, ultra-rich treatment balm that soothes, moisturizes and regenerates the skin with nourishing Organic Safflower Seed and Ethical Date Oil.
Thanks to the combination of emollient, moisturizing and soothing agri-cosmetic ingredients, Prodigious Balm relieves redness and chapped lips, restores the hydrolipidic barrier & protects your skin from external aggressors. 
Dermatologically Tested / Nickel Tested
Size: 25ml
Benefits
♥  Ultra luxurious melt-into-your-skin consistency absorbs easily
♥  Provides protection from future moisture loss and dryness
♥  Softens and hydrates even the most dry, damaged hands
♥  100% Naturally Derived Ingredients 
♥  Cruelty Free & Vegan
Key Ingredients
Organic Safflower Seed Oil is packed full of Vitamin E and Omega-3, which combat skin dryness and stimulate lipid barrier rebuilding.
Ethical Date Oil is rich in Saponins, known for their moisturizing, restructuring and elasticizing qualities. Antioxidant fighting flavonoids fight cellular ageing and protect skin from external aggressors.
Biodynamic Marigold protects skin from daily damage and increases hydration. It also stimulates collagen production, which helps regenerate and nourish dry, damaged skin.
Shea Butter nourishes and deeply hydrates the skin.
Sweet Almond Oil is rich in Omega-9 and fatty acids, providing deep nourishment, while preventing moisture loss from the hands.
Tocopherol (Vitamin E) is a powerful antioxidant & anti-inflammatory that fights free radicals to protect the skin while maintaining a stable level of hydration and lipids.