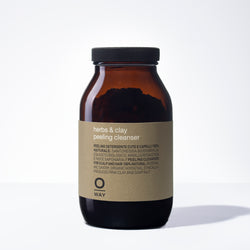 Oway Herbs & Clay Peeling Cleanser

A holistic beauty and wellness detox treatment that deeply cleans and purifies the scalp to stimulate healthy hair growth.
Benefits
♥ Reveals softer, more supple skin and hair
♥ Gently cleanses the skin and scalp with a slight peeling action
♥ Eliminates stress-inducing toxins from the skin and scalp
♥ Packaged in infinitely recyclable amber glass to protect ingredient integrity
♥ Cruelty-Free & Vegan
 
Does Not Contain:
✕ Parabens
✕ SLS / SLES
✕ GMOs
✕ Petroleum
✕ Phthalates
✕ Synthetic Fragrance
✕ Synthetic Ingredients
✕ PEGs, PPGs & BGs
✕ Artificial Colorants
Key Ingredients
Biodynamic Savory Leaf is a powerful antioxidant. Rich in detoxifying tannins to prevent and counteract the damaging effects of free radicals, while strengthening the hair bulb.
 
Organic Horsetail regenerates and re-mineralizes the skin, hair and scalp, while increasing elasticity and youthfulness.
 
Fair Trade Amazonian Pink Clay is rich in micro-minerals that gently remove and residue and regulate sebum production.
 
Soap Nut contains saponin, an effective antibacterial agent and natural cleanser.
How to Use
Mix 3-6 teaspoons of Herbs & Clay Peeling Cleanser (depending on the size of skin area or length and amount of hair) with the amount of hot water needed to obtain a paste.
Add 10 drops of any combination of your Oway Wellness Blends: A) Strengthening Blend, B) Antioxidant Blend, and/or 3) Wellness Blend
Apply to clean skin, the scalp or wet hair and massage for about 5 minutes, and rinse thoroughly.