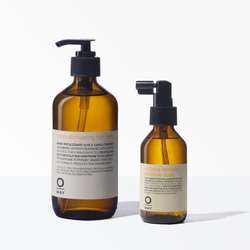 Oway Hair Loss Package for Sensitive Scalps

Did you know 1 in 5 Americans struggle with hair loss? If you happen to be one, try our Oway Holistic Hair Growth Kit. 
This kit includes everything you need to treat hair loss at home. The Micro-Stimulating Hair Bath prevents hair loss by strengthening the hair bulb and thickens and densifies hair follicles for a fuller head of hair while the Vivifying Remedy gently, yet effectively activates hair growth by stimulating the dermal papillae and protecting sensitive scalps from discomfort.
Details
♥ Promotes new hair growth, naturally
♥ Helps prevent hair loss by strengthening the hair bulb
♥ Thickens and densifies hair follicles for a fuller head of hair
♥ Packaged in infinitely recyclable amber glass to protect ingredient integrity
♥ Cruelty-Free + Vegan
Key Ingredients 
Buddleja Davidii Plant Stem Cells help to reproduce hair follicle cells at the source.
 
Dynagen is an active ingredient derived from yeast that increases the hair's keratin and collagen levels for stronger, more resilient hair.
 
Ethical Green Coffee is rich in polyphenols and tannins that inhibit the production of 5-a reductase, an enzyme responsible for hair thinning.
 
Organic Horse-Chestnut Extract contains saponine and esculin, which naturally stimulate the hair follicles, while strengthening the hair bulb.
*For full ingredients, visit product listings.
How to Use 
Cleanse your hair with Oway Micro-Stimulating Hair Bath.

Condition your hair with one of our Oway hair masks that is best suited for your hair type.

Shake before use and apply Oway Vivifying Remedy by spraying it directly to the scalp after you cleanse, condition, and rinse your hair. This product can be used on wet or dry hair. 

Gently massage the product into your scalp.

Do not rinse.