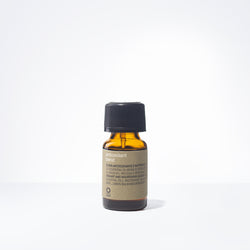 Oway Antioxidant Essential Oil Blend

A 100% pure essential oil formulated to invigorate the senses and nourish the skin and scalp.
Details
♥ Protects the skin, hair and scalp from premature aging
♥ High antioxidant eliminates stress-inducing free radicals and tension
♥ Deeply nourishes the skin and hair fiber, providing revitalizing and brightening benefits
♥ Energizing blend of only 100% pure biodynamic essential oils is a natural mood booster
♥ Packaged in infinitely recyclable amber glass to protect ingredient integrity
♥ Cruelty-Free & Vegan 
Does Not Contain:
✕ Parabens
✕ SLS / SLES
✕ GMOs
✕ Petroleum
✕ Phthalates
✕ Synthetic Fragrance
✕ Synthetic Ingredients
✕ PEGs, PPGs & BGs
✕ Artificial Colorants
Key Ingredients
Biodynamic Blood Orange Essential Oil has an re-energizing effect on the skin and mind, while naturally-occurring D-limonene has been linked to preventing the growth of cancer cells.
 
Biodynamic Basil Essential Oil promotes mental awareness and reduces stress and tension. It's rich in Vitamin A that revitalizes dull skin and hair.
 
Biodynamic Lemon Balm Essential Oil is rich in Vitamin C and antioxidants to revive and brighten lackluster skin and hair.
 
Biodynamic Bergamot Essential Oil heals the mind, hair and skin with its ability to reduce the prevalence of stress, tension and even scars.
How to Use
Pair me with Oway Flowerfall for an amazing treatment for the skin, scalp and mind!