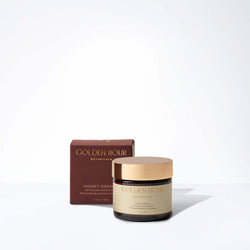 Honey Drench - All Purpose Healing Salve

This head-to-toe healing salve harnesses Organic Raw Honey and Tamanu Seed Oil to restore dry, damaged skin, and reveal a healthy radiant glow. 
Details
♥ Can hydrate without clogging pores
♥ Non-greasy, ideal for sensitive skin
♥ Can heal and protect the skin (head to toe)
♥ Helps to calm and soothe irritated skin
♥ Can provide a natural, healthy, radiant glow
♥ Vitamin enriched for ultimate skin nourishment
♥ Helps soothe, nourish, and hydrate
Key Ingredients
Fractionated Coconut Oil is rich in moisturizing properties that leave the skin glowing without clogging pores. It's also non-greasy and ideal for sensitive skin.
Beeswax benefits your skin because it's a natural humectant filled with protective was esters that draw moisture into your skin - and keep it there. It's packed with vitamin A to fight against the free radicals that cause premature signs of aging. Beeswax also provides gentle exfoliation to keep you soft and smooth. Like honey, beeswax has potent antibacterial and anti-inflammatory properties.
Mango Seed Butter is a rich source of antioxidants, vitamins, and minerals. The abundance of Vitamin C encourages your body's collagen production, while the high amount of antioxidants can prevent excessive signs of aging and sun damage. When applied topically, mangos possess hydrating properties.
Vitamin E helps to create a natural barrier to keep moisture in the skin.
Avocado Oil works on the skin's surface to preserve moisture and prevent water loss that can lead to signs of dehydrated skin. Avocado oil not only replenishes, smoths, and softens skin, it's also able to visibly calm skin and is a good source of natural antioxidants such as vitamins A, C, D, an E.
Tamanu Seed Oil is a fatty botanical oil that smooths and softens the skin. Tamanu oil is antibacterial and antifungal, making it helpful for acne, eczema, wound infections, and fungal infections. Tamanu helps make collagen and other components of your skin. Along with its wound healing abilities, i can also reduce the appearance of scars.
Organic Raw Honey when applied to the skin, increases circulation which helps encourage a natural, healthy radiance. Honey is a humectant, which helps your skin absorb and retain moisture, keeping it from drying out. It's packed with natural antioxidants and anti-microbial properties, which help protect, repair, and prevent skin damage.
Full Ingredients: Caprylic/Capric Triglyceride (Fractionated Coconut Oil) Organic, Beeswax Organic, Butyrospermum Parkii (Shea Nut Butter) Organic, MangiferaIndica (Mango) Seed Butter Organic, Ricinus Communis (Castor) Seed Oil, Natural Flavor, Tocopherol (Vitamin E), Persea Gratissima (Avocado) Oil Organic, Rosa Canina (Rosehip) Seed Oil, Calophyllum Tacamahaca (Tamanu) Seed Oil, Helianthus Annuus (Sunflower) Seed Oil, Honey Raw Organic
An Important Note: Ingredients may change. For the most current ingredient list, please check your packaging. Any slight variation in the aspect of the product is due to the natural raw materials in the formula and does not affect the quality.
How to Use
Apply a small amount to clean skin as needed for targeted care. Massage until fully absorbed.