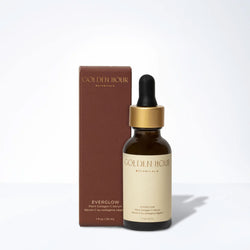 Everglow - Plant Collagen C Serum

This plant-powered Vitamin C serum visibly brightens and revitalizes skin tone with a megadose of hydrating Rose Distillate and Botanical Hyaluronic Acid to create glowing, healthy skin.
Details
♥ Can soothe and hydrate the skin
♥ Can minimize the appearance of pores
♥ Helps to reduce signs of aging
♥ Skin appears more clear, supple, and plump
♥ Can reduce the appearance of fine lines and wrinkles
♥ Improves the skin's elasticity, leaving the skin feeling tightened and toned

Key Ingredients
Rose Distillate has antibacterial, antimicrobial, and anti-inflammatory properties, thus helping soothe skin, minimize pores, and reduce fine lines. Rose water has hydrating and moisturizing properties.
Botanical Hyaluronic Acid is incredibly effective in making all skin types clear, supple, and plump while also being 100% natural and ethically derived.
Calanthe Discolor Extract (Orchistem) enhances and improves communication between skin stem cells and fibroblasts, resulting in a global rejuvenating effect that can lift and firm the skin, support wrinkle reduction, and help give back a glowing radiance. It acts as a firming, anti-wrinkle, anti-aging, and eyelid lifting active.
Vaccinium Myrtillus Fruit/Leaf Extract contains the tannins of Bilberries, making them a great astringent, helping the skin feel tight and toned. Locking in moisture while simultaneously helping balance oiliness is what makes Bilberry products a must for normal, combo, or even oily skin types.
Sugarcane Extract is a beneficial moisturizing ingredient typically used as a humectant. Sugarcane products act more gently than other exfoliating products and can be well-suited to sensitive skin. They work by removing dead skin cells from the skin's surface and giving it a uniform look. It's extremely useful in minimizing blemishes and keeping the skin hydrated.
LPD's Multivitamin contains a multivitamin complex (A, C, E, and F) that can reduce wrinkles, act as an antioxidant, and hydrate the skin.
Sodium Ascorbyl Phosphate/L-ascorbic acid (Vitamin C) is known for its brightening abilities and for targeting hyperpigmentation, post-inflammatory pigmentation, and dark spots. The result is an even skin tone with a mega-dose of radiance.
Full Ingredients: Aloe Barbadensis (Aloe Vera) Leaf Juice Organic, Glycerin Vegetable, Rosa Damascena (Rose) Distillate Organic, Terminalia Ferdinandiana (Kakadu Plum) Fruit Extract, Tocopheryl Acetate, Glyceryl Linoleate, Glyceryl Linolenate, Retinyl Palmitate, Sodium Ascorbyl Phosphate, Sorbitol, Lecithin, Xanthan Gum, Nannochloropsis Oculata (Micro Algae) Extract, Pullulan, Cassia Angustifolia Seed Polysaccharide (Botanical Hyaluronic Acid), Centipeda Cunninghamii (Cehami) Extract, Citrus Sinensis (Sweet Orange) Oil Organic, Citrus Reticulata (Tangerine) Oil, Calanthe Discolor Extract (Orchistem), L-Ascorbic Acid (Vitamin C), Disodium EDTA, Citrus Paradisi (Pink Grapefruit) Essential Oil, Citrus Medica Limonum (Lemon) Peel Oil, Ferulic Acid, Helianthus Annuus (Sunflower) Seed Oil, Lupinus Albus Seed Extract (Plant Collagen), Vaccinium Myrtillus Fruit/Leaf Extract, Saccharum Officinarum (Sugar Cane)Extract, Citrus Aurantium Dulcis (Orange) Fruit Extract, Citrus Limon (Lemon) Fruit Extract, Acer Saccharum (Sugar Maple) Extract, Natural Vanilla Oil, Gluconolactone, Sodium Benzoate, Phenoxyethanol
An Important Note: Ingredients may change. For the most current ingredient list, please check your packaging. Any slight variation in the aspect of the product is due to the natural raw materials in the formula and does not affect the quality.
How to Use
Apply a few drops to the face am and pm after cleansing. For optimal results, follow with any Golden Hour Botanicals moisturizer.