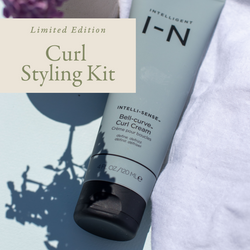 Curl Styling Kit

Our Curl Styling Kit features styling tools from Intelligent Nutrients that you can use to create bouncy, glamourous curls for spring. We've also included a spring up-do guide to guide your styling inspiration.
Kit Includes:
♥ 1 x Bell-Curve Curl Reviving Spray
♥ 1 x Bell-Curve Curl Cream
♥ 1 x Shape-Setter Gel
Download our guide to the perfect spring up-do here!