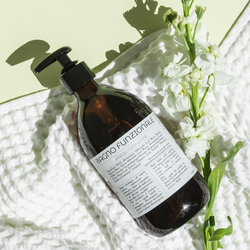 Anti-Hair Loss Kit By MyVeg

Did you know 1 in 5 Americans struggle with hair loss? If you happen to be one, try our Anti-Hair Loss Kit By MyVeg. 
This ritual promotes the regrowth of thinning hair due to transient or androgenetic causes. It strengthens the hair bulb and promotes scalp oxygenation.
Includes:
1 - Bagno Funzionale Riequilibrante (Balancing Hair Bath) 200ml
1 - Panacea Alle Erbe (Nourishing Phyto Hair Mask) 100ml
1 - Fitoargilla Funzionale (Detoxifying Clay Scalp Mask)
1 - Tonico Vitale (Volumizing Hair Tonic)
Details
♥ Promotes new hair growth, naturally
♥ Helps prevent hair loss by strengthening the hair bulb
♥ Cruelty-Free + Vegan
Key Ingredients 
Ventilated Green Clay normalizes sebum production and purifies the skin, smoothing and cleaning the scalp.
 
Rosemary contains large quantities of vitamin B and C which, when absorbed by the scalp, help promote fuller, thicker hair. It stimulates scalp microcirculation, improving hair follicle activity to eliminate accumulated toxins, prevent premature baldness and encourage natural hair growth.
 
Peppermint is useful in haircare, thanks to the active ingredient menthol, which stimulates nerve endings on the surface of the skin, transmitting a sensation of cold and cooling and stimulating microcirculation. It soothes itching and irritation of the scalp and eliminates the bacteria and fungi that cause dandruff and seborrheic dermatitis; it also has exfoliating properties.
 
Macadamia Oil is an excellent source of antioxidant vitamin E, which helps natural cell turnover and counters the effect of free radicals. Thanks to its emollient and hydrating properties, it leaves hair nourished and shiny, while its sebum-like composition soothes skin irritations. It is suitable for dry, damaged or frizzy hair, and gently and naturally detangles.
*For full ingredients, visit product pages.
How to Use