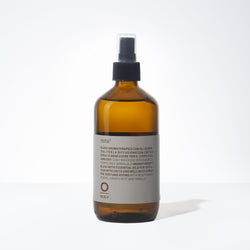 Oway NOTA 3

AROMATHERAPY BLEND WITH ESSENTIAL OILS
Oway's NOTA 3 is a refreshing blend of biodynamic Fennel, Grapefruit and Vanilla. The zest of citrus fruits, freshness of Fennel and warmness of Vanilla instantly brings life and boosts the mood of any space. 
Use NOTA 3 to diffuse with CRETA diffuser and as a wellness spray for your room and body. 
Size: 240ml



Details
Refreshing, energetic blend of pure essential oils that create a feel-good scent.
100% naturally derived.
3 in 1 use: for diffusion with CRETA, on the body or as a room spray.
Serenity to always carry with you to feel at-home even while traveling or working.
Key Ingredients
BIODYNAMIC FENNEL is a versatile and effective aromatic herb for easing digestive and respiratory congestion and discomfort. A fresh and herbaceous scent, Fennel has an affinity for soothing the body and the mind. 
BIODYNAMIC GRAPEFRUIT is used for a wide range of topical and aroma therapeutic benefits. It helps to reduce stress, lower blood pressure and instantly boosts moods.
BIODYNAMIC VANILLA has a signature warm, comforting scent. It is said to lower blood pressure, reduce inflammation and reduce depression for an extremely comforting feeling
FULL INGREDIENTS: (ND) Naturally Derived | (O) Organic | (BD) Bio-dynamic | (EO) Essential Oil | (FT) Fair Trade | (NI) Natural Identical Ingredient | (PS) Preservative System 
ALCOHOL DENAT (ND), LIMONENE (ND), FOENICULUM VULGARE (FENNEL) OIL (B/EO) VANILLIN (ND), CITRUS AURANTIM DULCIS (ORANGE) FRUIT EXTRACT (ND), CITRUS LIMON (LEMON) PEEL OIL (EO), CANANGA ODORATA (FLOWER EXTRACT) (ND) CITRUS AURANTIUM BERGAMIA (BERGAMOT) FRUIT OIL (EO), POGOSTEMON CABLIN LEAF OIL (EO), TRIETHYL CITRATE (ND), CITRUS GRANDIS (GRAPEFRUIT) PEEL OIL (EO), LINALOOL (ND), GERANIOL (ND), CITRAL (ND)
How to Use
FOR DIFFUSING WITH CRETA:
When using CRETA for the FIRST time: pour 100ml of NOTA 3 into base. In following uses: use 50ml. CRETA will absorb the fragrance and release it into the environment in an organic, gradual manner. The clay walls absorb NOTA 3, continuing to release it even after the product inside is gone.
ON THE BODY AND IN ROOMS:
Replace the cap with the spray dispenser supplied and spray on the body or in rooms for renewed vitality and energy.