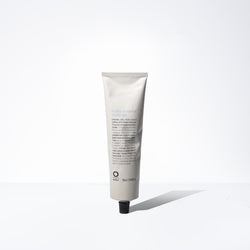 Oway Hydro-Balance Scalp Gel

The ultimate scalp spa experience, Hydro-Balance is the perfect scalp balancing gel for oily scalps. It helps refresh and rebalance good bacteria, leaving hair feeling fresh & clean. Hydro-Balance Scalp Gel also works to counteract the presence of lactic acid on the scalp, controlling oil production which leaves hair feeling cleaner, longer and minimizes the need for frequent washing.
Great for those who experience excess sweating, workout daily or those who live very active lifestyles. Consider adding it to your wash and rinse routine!
Signature Scent: The herbaceous, sweet and aromatic scent of Sage meets the spicy intensity of Anise, for a rebalancing and refreshing aroma therapeutic experience.
Size: 150mL
Details
♥ Purifies and regulates oily scalp 
♥  Helps to combat excess lactic acid on the scalp to reduce number of weekly washes
♥  Promotes a healthy scalp by eliminating greasiness, itching and discomfort
♥  Can help strengthen the hair and create a healthy environment for new hair growth
♥  Packaged in infinitely recyclable aluminum  to protect ingredient integrity
Does Not Contain:
✕ Parabens
✕ SLS / SLES
✕ Silicone 
✕ GMOs
✕ Petroleum
✕ Phthalates
✕ Synthetic Fragrance
✕ EDTA
Key Ingredients 
Organic Euphrasia works as an astringent, anti-inflammatory and has powerful antibacterial properties.
Biodynamic Sage is a 100% pure and effective herb for oily skin and scalp treatments. It's an ancient medicinal plant renowned for its powerful purifying action and ability to regulate sebaceous oil glands.
Ethical Teak strengthens the hair's structure while providing added antibacterial properties.

Other Ingredients:
Aqua/Water/Eau OZ, Glycerin ND, Lysine Aspartate ND, Polyglyceryl-3 Stearate Se ND, Hydroxyethyl Acrylate/Sodium Acryloyldimethyl Taurate Copolymer, Lysine Thiazolidine Carboxylate ND, Squalane ND, Salvia Officinalis (Sage) Oil BD/EO, Euphrasia Officinalis Extract O, Tectona Grandis Wood Extract FT, Illicium Verum (Anise) Fruit/Seed Oil EO, Lysine Carboxymethyl Cysteinate ND, Menthol ND, Polysorbate 60 ND, Hydroxyethylcellulose ND, Xanthan Gum ND, Glyceryl Laurate ND, Citric Acid ND, Sodium Phosphate, Disodium Phosphate, Sodium Benzoate, Potassium Sorbate, Phenoxyethanol, Benzyl Alcohol
How to Use 
Before shampooing, apply product directly to dry scalp and massage. Leave on for 15/20 minutes, rinse and wash using FREQUENT USE HAIR & SCALP BATH or SEBUM BALANCE HAIR BATH.

Additional tip:
In cases of particularly prominent hyperhidrosis, a special application can be carried out during the night: apply hydro-balance scalp gel before going to sleep, so that the product can be absorbed adequately / leave the product in all night. In the morning, rinse and shampoo / condition as usual. 
Suggested Frequency:
Phase 1: Twice a week for 4 weeks
Phase 2: Once a week for 2 weeks
Phase 3: Once every 3/4 weeks (approx.)
Tube with dispensing cannula included for direct application on the scalp. The size of this product allows approximately 10 applications.