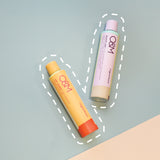 O&M Dry Texture Styling Kit

Celebrating the launch of 2 brand new styling products, our O&M Dry Texture Styling Kit will infuse your hair with body, bounce and texture!
O&M Desert Dry Volumizing Texture Spray is a dry texture spray that helps build volume and lift by absorbing oil and impurities. Formulated with Australian Lily Pilly and Quandong Fruit, it leaves the hair healthy, nourished and full of life.
O&M Dry Queen Dry Shampoo will give you instantly cleaner and thicker hair, whisk away extra oils and eliminate unwanted odor. Thanks to plant extracts like Australian Lilly Pilly and Quandong, it leaves the hair feeling fresh and full-bodied after a few sprays.
Kit includes: 
1 - O&M Desert Dry Volumizing Texture Spray

1 - O&M Dry Queen Dry Shampoo