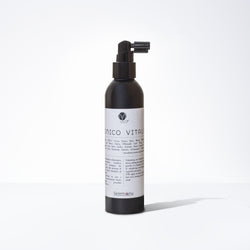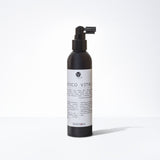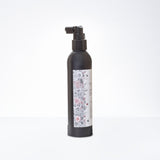 TONICO VITALE - Volumizing Hair Tonic (200ml)

MyVeg Tonico Vitale - Volumizing Hair Lotion is a potent blend of stimulating and energizing plant ingredients. It volumizes and helps to stimulate hair growth. Light, flexible, and soothing and it's a great option for reactivating second and third-day styling.
Signature Scent: The energizing head note released by the Grapefruit essential oil merges with the herbaceous notes of sage, alfalfa, and nettle, creating an energizing and stimulating experience.
Size: 200ml
Details 
♥ Volumizes and stimulates hair growth
♥  Light and flexible feel 
Key Ingredients 
Nettle energizes the scalp resulting in increased circulation and in the hair bulb receiving more nutrients.
Alfalfa reduces carbon dioxide by eliminating anaerobic bacteria and is excellent for restoring the balance of bacterial flora on the scalp.
Salvia Officinalis promotes microcirculation and stimulates natural hair growth while strengthening hair and boosting shine.
Full Ingredients:
Urtica Dioica Root Water, Medicago Sativa Leaf Water, Salvia Officinalis Leaf Water, Aloe Barbadensis Leaf Juice, Inulin, Acetum, Citrus Grandis Peel Oil, Citric Acid, Potassium Sorbate, d-Limonene°, Geraniol°

How to Use 
Apply on damp scalp and hair root, massage and dry as usual.