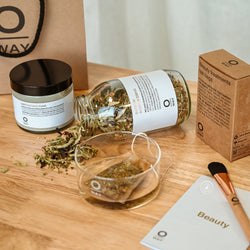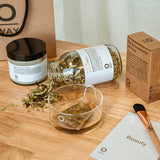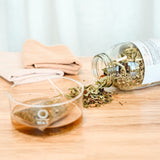 Oway Summer Solstice Calming At-Home Facial Kit

SOOTHING SUMMER FACIAL KIT
One sunburn too many? Use our Oway Summer Solstice Calming At-Home Facial Kit to soothe and revitalize skin that is worn down and dull from a long summer.
The Summer Solstice Blend, when added to a Beauty Treatments Bag and soaked in warm water, creates a Solstice Remedy perfect for re-mineralizing and strengthening the skin. The concoction of 100% biodynamic-organic Dog Rose, Strawberry leaves, Elderberry, Lemon Verbena, Hibiscus Flower and Damask Rose instantly hydrates and calms redness and irritations for immediate relief.
Finish this relieving ritual with a Calming Face Mask applied with the Beauty Treatments Brush for optimal, even application and little to no waste of product. This final step uses ethically produced Green Clay to lightly unclog pores, Strengthening Complex with Blackcurrant to deliver antioxidants and boost skin's immunity, Cardiospermum to alleviate dry, itchy skin and Halicacabum to treat inflamed, red, rosacea-like skin.
Includes (SAVE 60%):
1 - Oway Summer Solstice Blend 
1 - Oway Calming Face Mask (230ml) 
1 - Oway Beauty Treatment Brush
1 - Oway Beauty Treatments Bowl
1 - Oway Beauty Treatment Tea Bags (120/box)
2 - Oway Retail Gift Tissue Paper (1 Sheet)
1 - Oway Eco Bowler Retail Bag (Large)
1 - Oway Beauty Consumer Brochure 

Optimal for sensitive, rosacea, psoriasis and red/irritated skin types.
DETAILS
Strengthens and reverses skin damage from free radicals, the sun and other environmental aggressors
Soothes and calms red/irritated skin
Enhances the effectiveness of other skincare treatments
Strengthens the epidermis by fortifying the skin's natural defense against inflammation and damage
Helps treat sensitive, rosacea, psoriasis and red/irritate skin
Cruelty Free & Vegan
Does Not Contain:

✕ Parabens
✕ SLS / SLES
✕ GMOs
✕ Petroleum
✕ Phthalates
✕ Silicones
✕ Synthetic Fragrance
✕ PEGs, PPGs & BGs
✕ Artificial Colorants
KEY INGREDIENTS
Summer Solstice Blend
Biodynamic Dog Rose fights against, and repairs skin from damage caused by free radicals, the sun and other environmental toxins. With high levels of antioxidants, dog rose adds effective anti-aging benefits to a formulation because they help slow down, and even decrease, the signs of aging.
Biodynamic Strawberry Leaves contain amazing astringent properties that help treat puffy eyes. They also contain alpha hydroxy acid, which makes the skin look smooth and young. Their high antioxidant content protect the skin from oxidative damage and stall the signs of aging (wrinkles, sagging skin, fine lines, etc.)
Biodynamic Hibiscus is nicknamed the 'Botox Plant' for its ability to help with age spots and wrinkles for an all round fresher, younger, smoother looking complexion. The natural acids present in Hibiscus help to purify the skin by breaking down dead skin and increasing cell turnover—it can even help to control acne breakouts. Biodynamic Elderberries is infused with all-natural anti-aging and free radical fighting properties that keep skin healthy and radiant. Furthermore, they also act as a natural detoxifying agent and help prevent distressing skin conditions like breakouts, boils, and scars. The anthocyanins in elderberries were found to give a natural boost to your skin health by protecting against skin damage. In fact, distilled elderberry flower water is known to restore skin health and lighten freckles.
Calming Face Mask
Ethically Produced Green Clay detoxifies the skin. It is known to draw out impurities from the pores, tone and firm skin, stimulate circulation and help to heal blemishes. The natural clay soothes cuts and scraps, minor burns and insect bites.
Strengthening Complex contains Blackcurrant which is an immune boosting antioxidant.
Cardiospermum has been used for centuries to treat skin disorders. It is great for dry, itchy skin such as eczema and possesses anti-inflammatory properties.
Halicacabum is great for inflamed skin prone to rashes and skin allergies as well as rosacea. This plant is strongly anti-inflammatory, extremely effective against redness and itchiness. This natural ingredient is known to protect skin from moisture loss.
HOW TO USE
Add a tablespoon or two of Summer Solstice Blend into a Beauty Treatment Teabag and let soak in warm water. Cleanse skin with your favorite cleanser and rinse using the solstice remedy. This acts as a treatment within itself. Then Apply the Calming Face Mask using the Rose Gold Beauty Treatment Brush, the bristles are soft on the skin yet strong enough to hold the product so that it glides nicely over the skin for even coverage without product waste.