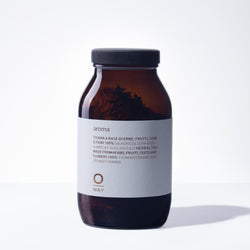 Oway Aroma Tea (70g)

A 100% organic loose leaf herbal blend for creating a cup of soothing and relaxing tea.
Details
♥ Calms and relaxes salon guests
♥ Made with 100% Biodynamic plants
♥ Promotes beauty, health and wellness in the salon
♥ High quality tea leaves can be re-steeped multiple times
Key Ingredients
Biodynamic Chamomile soothes the mind and body with its high flavonoid content.
 
Biodynamic Rosemary is an all-natural breath freshener and overall mood booster.
 
Biodynamic Elderflower has been used in traditional medicine all over the world in many different cultures due to its antiseptic and anti-inflammatory properties.
 
Biodynamic Juniper Berries contain high amounts of antioxidants that help neutralize free radicals in the body, which are linked to the development of diseases like cancer, arthritis and cardiovascular disease.
Caffeine Free | 70g
Ingredients: 100% Biodynamic Rosemary, Elderflower, Fennel Seeds, Hyssop Tops, Mint, Blackcurrant, Cinnamon, Linden Flower, Malva Leaves/Flowers, Margiold Flowers, Juniper Berries, grains of pepper. 
How to Use
For every 8oz of water, use 1 tbs of AROMA. Steep for 5-7 mins.