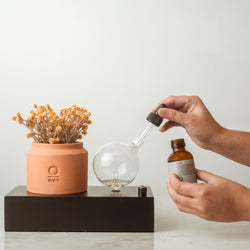 Oway SEGNO Nebulizing Essential Oil Diffuser

NEBULIZING ESSENTIAL OIL DIFFUSER
Make special moments mean even more with the newOway Segno. A minimalistic eco-sustainable electric diffuser Segno features unique textures, shapes and materials that, combined with the alluring scent of NOTA 2, create an unforgettable relaxing atmosphere at home.  
Carefully crafted from 3 simple natural materials—wood, glass and metal—this modish diffuser transforms essential oil blends into an ethereal aromatic mist. 
To be used with NOTA 2.
Benefits
Crafted from three 100% natural materials: wood, metal and glass.
Create a unique and special experience using pure essential oils of the highest quality for a non-invasive yet aroma-therapeutic mist.
Designed with refined textures, shapes and materials that make for an interesting display piece and conversation starter in your home.
Includes a 100% natural terracotta vase suitable for flowers or succulent plants.
Innovative Nebulization Technology alternates between working and rest phases autonomously.
Transforms Nota 2 into a delicate aromatic mist unlike any other diffusing experience.
Reassures and calms clients as you cleanse the air and create a calming ambiance in your space.


Key Ingredients
Made from 100% natural wood, metal and glass.

How to Use
1. Take Nota 2 from the bottle with the dropper pipette.
2. Pour the drops into the SEGNO glass cruet.
3. Place the cruet in the special housing on the base.
4. Connect Segno to the socket.
5. Activate Segno through the knob and select the desired intensity.
6. Immerse yourself in the newly-created atmosphere and relax. Use as many times as you want.