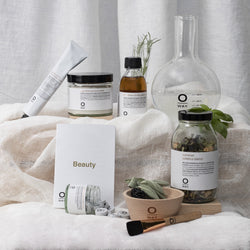 Oway Summer Solstice Age Defying Facial Ritual Kit

Rejuvenate + Restore
Use our Oway Summer Solstice Calming Facial Kit to soothe and revitalize skin that is stressed during summer months. The must-have skin care routine!
The Summer Solstice Blend helps slow down and even decrease the signs of aging by creating a protective barrier that prevents skin and hair from becoming dehydrated in the summertime with a blend of Biodynamic Dog Rose, Biodynamic Hibiscus and Damask Rose - pair with the NEW Oway Compressed Paper Face masks!
Follow the Summer Solstice Beauty Treatment with an Age Defying Face Mask to soothe sunburn and slow down the skin's aging process. Use the Rose Gold Beauty Treatment Brush for application as the bristles are soft on the skin, yet strong enough to hold the product so that it glides nicely over the skin for even coverage without product waste.
Includes: 
1 - Oway Perfect Skin Cleansing Cream (175ml)
1 - Oway De-Stress Tonic (140ml)
1 - Oway Beauty Treatments Bowl
1 - Oway Summer Solstice Blend
1 - Oway Compressed Paper Face Masks (20pcs)
1 - Oway Age-Defying Face Mask (230ml)
1 - Oway Beauty Consumer Brochure 
Optimal for mature to very dry skin types that are sensitive, damaged, dry and dehydrated.
DETAILS
Strengthens and reverses skin damage from free radicals, the sun and other environmental aggressors
Prevents further aging and maintains skin's youth with a rush of antioxidants
Soothes and calms red/irritated skin
Enhances the effectiveness of other skincare treatments
Firms and tightens aging skin
Reduces the appearance of fine lines and wrinkles
Stimulates skin's fibroblast product and collagen synthesis for a smooth, youthful appearance skin
Cruelty Free & Vegan
Does Not Contain:
✕ Parabens
✕ SLS / SLES
✕ GMOs
✕ Petroleum
✕ Phthalates
✕ Silicones
✕ Synthetic Fragrance
✕ PEGs, PPGs & BGs
✕ Artificial Colorants

KEY INGREDIENTS
Summer Solstice Blend
Biodynamic Dog Rose

 

fights against, and repairs skin from damage caused by free radicals, the sun and other environmental toxins. With high levels of antioxidants, dog rose adds effective anti-aging benefits to a formulation because they help slow down, and even decrease, the signs of aging.
Biodynamic Strawberry Leaves

 

contain amazing astringent properties that help treat puffy eyes. They also contain alpha hydroxy acid, which makes the skin look smooth and young. Their high antioxidant content protect the skin from oxidative damage and stall the signs of aging (wrinkles, sagging skin, fine lines, etc.)
Biodynamic Hibiscus
 is nicknamed the 'Botox Plant' for its ability to help with age spots and wrinkles for an all round fresher, younger, smoother looking complexion. The natural acids present in Hibiscus help to purify the skin by breaking down dead skin and increasing cell turnover—it can even help to control acne breakouts. 
Biodynamic Elderberries
 is infused with all-natural anti-aging and free radical fighting properties that keep skin healthy and radiant. Furthermore, they also act as a natural detoxifying agent and help prevent distressing skin conditions like breakouts, boils, and scars. The anthocyanins in elderberries were found to give a natural boost to your skin health by protecting against skin damage. In fact, distilled elderberry flower water is known to restore skin health and lighten freckles.
Age-Defying Face Mask
Bulbine Frutescence is an extraordinary succulent plant found in the valleys of South Africa. Renowned for its medicinal healing properties, it also has a toning and reshaping effect on the skin. It stimulates the production of fibroblasts which are responsible for keeping the skin tissues firm and compact. Organic Chia is packed full of Vitamin E, which combats inflammation and fights wrinkles. Fair Trade Pataua Oil prevents melanin biosynthesis, which is responsible for age spots and discoloration.

CREATE YOUR NEW SKINCARE ROUTINE
Step 1: In upward circular motions, wash the day away with Oway Perfect Skin Cleansing Cream, rinse & pat dry.
Step 2: On a cotton pad, apply Oway De-Stress Tonic to entire face. 
Step 3: Apply Oway Anti-Aging Face Mask, using a treatment brush. Let sit for 10 minutes & rinse. 
Step 4: In a bowl of warm water, add 1-2 tablespoons of Oway Summer Solstice Blend and submerge Oway Compressed Paper Face Masks. Sit back and relax! When ready, remove mask and pat any residual moisture into skin.