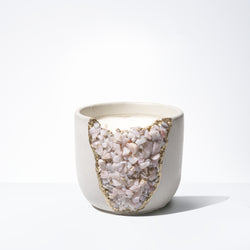 Zalena's Pink Opal Candle (12oz)

Inspired by nature to bring fresh, all-natural scents to the home, Zalena's Pink Opal Candle is a unique, hand-crafted, and hand-poured aroma-therapeutic wellness experience.  Every candle is made with 100% natural coconut and apricot wax making it vegan, non-toxic, and clean burning, with no synthetic additives, phthalates, or carcinogens. 
It features stunning Pink Opal, which is known to have calming properties that activate the heart chakra, stimulating emotional healing and tranquility. This candle is the perfect accessory to create a welcoming sensory experience in any room.
Signature Scent: This candle is infused with natural essential oils that bring bright freshness and sweet sensuality. You can enjoy the following notes - Black Currant, Black Tea, Sandalwood, Musk, Jasmine, Grapefruit, Cedarwood, Vetiver, and Zesty Tangerine.
Size: 12oz
Burn Time: 80+ hours
Details
♥ 100% Vegan </li>
♥ Made with apricot and coconut wax</li>
♥ Nontoxic</li>
♥ Cotton wick for clean burning </li>
♥ No synthetic additives </li>
♥ Phthalate and carcinogen free </li>
Key Ingredients
Pink Opal is a unique crystal known for facilitating kindness, compassion, empathy, and tenderness. It is also ideal for stimulating creativity and independence.