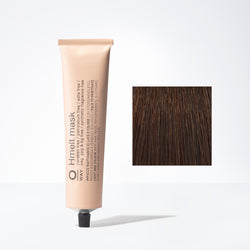 Oway Hmelt Mask Authentic Chestnut (125ml)

A deep conditioning hair mask for revitalizing rich brunette tones. Hmelt Masks are uniquely formulated to boost hair color vibrancy and longevity with an exclusive collection of phyto-pigments and an ultra-low pH.

Organic Mullein and Biodynamic Curly Dock nourish and strengthen the hair shaft, increasing color retention and guarding against fading and UV damage.
Details
• Vibrance + Longevity: crafted with an exclusive collection of Fair Trade phyto-pigments that deeply penetrate the hair shaft to embolden brunette tones.
 
• Preserve + Protect: vitamin-rich organic botanicals strengthen and restore the hair, while acting as an all-natural UV protectant to prevent color fading and damage.
 
• Ethical + Effective: made with biodynamic-organically grown seeds and plants hand-picked during their balsamic period to ensure maximum nutritional benefits and effectiveness.
 
• Pure + Sustainable: infinitely recyclable aluminum tube packaging protects product purity and ingredient integrity.
 
• Versatile + Customizable: can be be applied directly or even customized with Oway Hmelt Pigments. 
Key Ingredients
Fair Trade Phyto-pigments: each Oway Hmelt offers an exclusive alchemy of plant-based pigments to achieve the most natural hair color possible. Extracted from antioxidant-rich botanicals of Rhatany, Broom, Walnut, Lycopene, Turmeric and Saffron, these pigments polish the cuticle and deeply saturate the hair shaft.
Organic Mullein is naturally photoluminescent botanical with an ability to absorb and transform light into incredible brightness. It protects the hair against damaging UV rays and delivers color radiance and shine.
 
Biodynamic Curly Dock strengthens and revitalizes the hair with its naturally-occurring iron, magnesium, potassium, and calcium content. By delivering the ideal amount of minerals and Vitamins A and C, the hair is left regenerated and full of life and body.

Does not contain: parabens, phthalates, PEGs/PGs/BGs, synthetic fragrance, petroleum, GMOs, gluten, animal-derived ingredients.
FULL INGREDIENTS: (ND) Naturally Derived | (O) Organic | (BD) Bio-dynamic | (EO) Essential Oil | (FT) Fair Trade | (NI) Natural Identical Ingredient | (PS) Preservative System 
WATER, PROPYLENE GLYCOL, HYDROLYZED VERBASCUM THAPSUS FLOWER (O), RUMEX CRISPUS ROOT EXTRACT (B), CURCUMA LONGA (TURMERIC) ROOT EXTRACT (FT), KRAMERIA TRIANDRA ROOT EXTRACT (FT), SAROTHAMNUS SCOPARIUS EXTRACT (FT), JUGLANS REGIA (WALNUT) LEAF EXTRACT (ND), DECYL GLUCOSIDE (ND), COCAMIDOPROPYL BETAINE (ND), GLYCERIN (ND) SILICONE QUATERNIUM-22, POLYGLYCERYL-3 CAPRATE (ND), DIPROPYLENE GLYCOL, CITRIC ACID(ND), PALMITAMIDOPROPYLTRIMONIUM CHLORIDE (ND), SODIUM GLUCONATE (ND), BENZYL ALCOHOL (ND), PHENOXYETHANOL, ETHYLHEXYLGLYCERIN, BASIC YELLOW 87, BASIC RED 51, BASIC ORANGE 31, HC BLUE NO. 15, SODIUM BENZOATE, POTASSIUM SORBATE (ND)
An Important Note: Ingredients may change. For the most current ingredient list, please check your packaging. Any slight variation in the aspect of the product is due to the natural raw materials in the formula and does not affect the quality.
How to Use
After washing hair with desired Oway Hair Bath, towel dry and release hair of excess water. Apply Hmelt Mask on the lengths, distributing evenly with hands or comb. Leave on for 5-10 minutes and rinse thoroughly.
 
TIP: For increased intensity, extend processing time to 20 minutes.