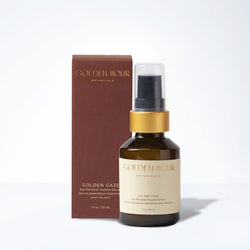 Golden Gaze - Eye Renewal Peptide Serum

Treat and renew the delicate eye area with a regenerative blend of plant peptides and Amino Acids to improve skin's elasticity, hydration, and reduce the appearance fine lines.
Details
♥ Can depuff and brighten the skin
♥ Aids in reducing inflammation
♥ Improves elasticity, making skin appear smoother
♥ Skin can appear more radiant
♥ Can reduce the appearance of darkness and even out discoloration and texture

Key Ingredients
Shea Nut Oil is a rich carrier oil made from fractionating Shea Butter. Shea Nut Oil effectively moisturizes, softens, and soothes, improving the appearance and feel of dry, parched textures. It also absorbs quickly, leaving a non-greasy yet satiny finish to the skin.
Vitamin B5 helps your skin build up a barrier against irritation and water loss; a skin protectant with anti-inflammatory properties. It can help improve skin's hydration, elasticity, and smooth appearance.
Citrus Aurantium Dulcis (Orange) Callus Culture Extract can help recover the skin's elasticity by helping reorganize the inner structure of the skin. They are purported to make the dermis structure denser, repair the extracellular matrix, and improve cellular adhesion.
Irish Moss may decrease inflammation, hydrate skin, and give it a natural glow. It can even heal damaged/irritated skin and prevent breakouts.
Palmitoyl Peptide Complex is a combination of active ingredients able to reduce the appearance of dark circles under the eyes that are caused by colored blood pigments in the skin. It also has been found to have an anti-irritant effect and may reinforce the firmness and tone of the eye area. It can be combined with an anti-dark circle product or soy-rice peptide for anti-puffiness.
Sea Fennel can soften the skin, unclog pores, boost collagen, reduce fine lines, speed cell turnover, and even out skin discoloration and texture. Skin brightening Vitamin C protects against environmental pollution and UV, strengthening your skin's epidermis layer and preventing moisture loss. Strengthening Vitamin E helps dull or dry skin return to a fresh, glowy luster. Vitamin A, a natural form of retinol, soothes acne spots while boosting collagen. It also helps to unclog pores and even out skin tone and hyperpigmentation.
Amino Acid Blend maintains the skin's hydration, resilience, and overall healthy appearance. It protects skin from free-radical damage and can reduce signs of aging.
Full Ingredients: Aloe Barbadensis Leaf Juice Organic, Methyl Sulfonyl Methane (MSM), Sodium PCA (Sodium L-pyroglutamate), Cucumis Sativus (Cucumber) Hydrosol, Butyrospermum Parkii (Shea Nut) Oil Organic, Glycerin Vegetable, Rosa Canina (Rose Hip) Seed Oil Organic, Sodium Ascorbyl Phosphate (Vitamin C), DL-Panthenol (Vitamin B5), Citrus Aurantium Dulcis (Orange) Callus Culture Extract (Stem Cells), Steareth-20, N hydroxysuccinimide, Chrysin, Palmitoyl tripeptide-1, Palmitoyltetrapeptide-7, Chlorhexidine Digluconate, Potassium Sorbate, Sodium Lactate, Arginine, Aspartic Acid, PCA, Glycine, Alanine, Serine, Valine, Proline, Threonine, Isoleucine, Histidine, Phenylalanine (Amino Acid Blend), Cassia Angustifolia Seed Polysaccharide (Botanical Hyaluronic Acid), Retinol, Caprylic/Capric Triglyceride, Eleuthero Extract, Astragalus Extract, Reishi Extract, Chondrus Crispus (Irish Moss) Extract, Polysorbate 20, D-alpha Tocopheryl Acetate (Vitamin E), Calophyllum Tacamahaca (Tamanu) Seed Oil, Crithmum Maritimum (sea fennel) extract, Vaccinium Macrocarpon (Cranberry) Extract, Lactic Acid, Palmitoyl Tripeptide-5, Glycerine, Carbomer, Lecithin, Sclerotium Gum, Pullulan, Xanthan Gum, Citrus Paradisi (Pink Grapefruit) Essential Oil, Boswellia Serrata (Frankincense) Oil, Phenoxyethanol, Ethylhexylglycerin
An Important Note: Ingredients may change. For the most current ingredient list, please check your packaging. Any slight variation in the aspect of the product is due to the natural raw materials in the formula and does not affect the quality.
How to Use
Following your Golden Hour Botanicals serum or moisturizer, gently massage around the eye area until the product is well absorbed.