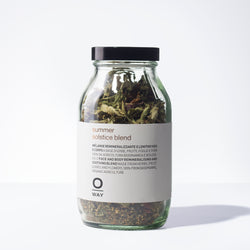 Oway Summer Solstice Blend

A concoction of Dog Rose, Strawberry leaves, Elderberry, Lemon Verbena, Hibiscus Flower and Damask Rose that delivers hydrating and anti-aging benefits to the skin.
Details
• Strengthens and reverses skin damage from free radicals, the sun and other environmental aggresors
• Prevents further aging and maintains skin's youth with a rush of antioxidants
• Soothes and calms red/irritated skin
• Enhances the effectiveness of other skincare treatments
• Cruelty Free & Vegan
 
Does Not Contain:
✕ Parabens
✕ SLS / SLES
✕ GMOs
✕ Petroleum
✕ Phthalates
✕ Silicones
✕ Synthetic Fragrance
✕ PEGs, PPGs & BGs
✕ Artificial Colorants
Key Ingredients
Biodynamic Dog Rose
 fights against, and repairs skin from damage caused by free radicals, the sun and other environmental toxins. With high levels of antioxidants, dog rose adds effective anti-aging benefits to a formulation because they help slow down, and even decrease, the signs of aging. 
Biodynamic Strawberry Leaves contain amazing astringent properties that help treat puffy eyes. They also contain alpha hydroxy acid, which makes the skin look smooth and young. Their high antioxidant content protect the skin from oxidative damage and stall the signs of aging (wrinkles, sagging skin, fine lines, etc.)

Biodynamic Hibiscus is nicknamed the 'Botox Plant' for its ability to help with age spots and wrinkles for an all round fresher, younger, smoother looking complexion. The natural acids present in Hibiscus help to purify the skin by breaking down dead skin and increasing cell turnover -it can even help to control acne breakouts.
 
Biodynamic Elderberries is infused with all-natural anti-aging and free radical fighting properties that keep skin healthy and radiant. Furthermore, they also act as a natural detoxifying agent and help prevent distressing skin conditions like breakouts, boils, and scars. The anthocyanins in elderberries were found to give a natural boost to your skin health by protecting against skin damage. In fact, distilled elderberry flower water is known to restore skin health and lighten freckles.
How to Use
Used to enhance the effectiveness of our other body and face treatments, these versatile, herbal blends can be used by:
• Adding blend to hot-water activated pack and left on the face or body
• Adding blend to Oway Tea Bags and steeped in Oway Treatments Bowl, then used in place of water to remove cleansers, face masks and other skin treatments
• Adding blend to Oway Tea Bags and steeped in Oway Treatments Bowl, then transferred to a spray bottle to be used during and after skincare services to enhance effectiveness and treatment experience.