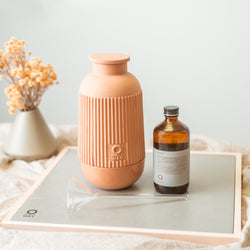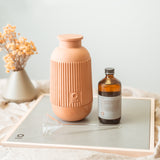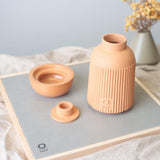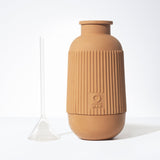 Oway Creta Terracotta Diffuser

100% NATURAL TERRACOTTA DIFFUSER
Take aromatherapy back to its roots with Oway Creta Terracotta Diffuser. Creta is crafted out of pure sustainable terracotta, allowing it to gradually absorb and release refreshing NOTA 3 through pores of the clay for a harmonious and discrete diffusing experience.
Enjoy it's simple yet unique design in your salon, in your home or wherever you spend most of your time. 
To be used with NOTA 3.
DETAILS
Crafted from 100% natural terracotta clay.
Made by Federica Bubani, a young Italian designer based in Faenza.
Great sustainable alternative to traditional plastic diffusers with a design that combines beauty and functionality.
Designed and manufactured in Italy for a "zero-mile" cycle that reduces CO2 emissions.
The special pleated terracotta allows for a unique diffusing experience and an intense, prolonged release of rejuvenating Nota 3.
Unique piece for great display and conversation starter.
KEY INGREDIENTS
Made from 100% terracotta clay.
HOW TO USE
Place your IMBUTO Glass Funnel in the neck of CRETA and pour 50ml NOTA 3 into the body. Prolong the fragrance release by placing the lid on your CRETA. ***Upon first use, use 100ml of NOTA 3.