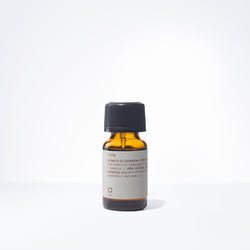 Oway NOTA Essential Oil (7ml)

An refreshing, enlivening blend of pure essential oils perfect for creating a friendly, welcoming environment.
 Details
♥ Packaged in protective amber glass to preserve essential oil integrity
♥ Helps salons standout with a truly unique, unforgettable signature scent
♥ Pure, high quality formula made with only steam-distilled biodynamic botanicals
Key Ingredients
Fennel Essential Oil supports a healthy respiratory and nervous system, while boosting the body's immune system.
 
Orange Peel Essential Oil has an energizing effect on the mind, and is an all-natural anti-inflammatory agent.
 
Ylang-Ylang Essential Oil as an all-natural mood booster that reduces stress and anxiety.
 
Patchouli Essential Oil has a grounding and balancing effect on the emotions and banishes lethargy, while sharpening the mind.
How to Use 
Add 1 drop of NOTA essential oil for every 3.3oz or 100ml of water.