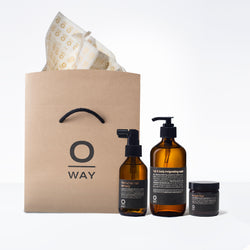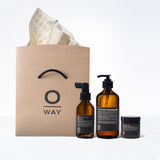 Oway Men's Hair Care Gift Set

Give him the gift the of high quality, organic hair products featuring our new OW Men's Collection!
Made with Primordial Ingredients, Techno-Botanicals and farm grown Biodynamic-Organic Plants, these products will cleanse, strengthen and hydrate the hair from the inside out. 
Details
Our OW Mens line is crafted with an extraordinary collection of ingredients that style, strengthen and nourish the hair, skin and scalp.
1 - Styling Product of Choice:

[Bungee Fiber 50ml, Water Resin 50ml or Raw Mud 50ml]

1 - Nocturnal Remedy 100ml
1 - Hair & Body Invigorating Wash 240ml
Key Ingredients 
RESURRECTION PLANT: It's thought that the ability of these plants to survive such extreme dehydration is due to the presence of a sugar called trehalose. This molecule protects organisms from extreme conditions by stabilizing proteins and preserving cellular membranes. This has a regenerating, anti-oxidative, moisturizing, protective effect on the hair and skin.
Habitat: Mexican Desert
ORGANIC MAQUI: Also called Patagonian Blueberry, it is considered the most powerful super berry found in Nature. Contains delphinidin, which produces cellular energy and slows down the aging process.
Habitat: Patagonia.
ETHICAL BACURI BUTTER: Rich in vitamins A, B and C, antioxidants and minerals, it is extremely nourishing and natural emollient for the skin and hair.
Habitat: Rainforest.
ZEOLITE: Performs an anti-stress, re-mineralizing and detoxifying action. Particularly effective for sensitive skin.
Habitat: Volcanic Soils.
SIBERIAN GINSENG: Rich in phytonutrients that tone, brighten and energize the skin. Renown for its anti-aging benefits.
Habitat: Siberia and Mongolia.
BIOFERMENTS:They supply essential nutrients to the hair and skin. They strengthen the cellular cohesion of the tissues, making them more compact. They stimulate the repair and regeneration of the skin.
PHYTO-PEPTIDES:Due to its small molecular weight, this ingredient to deeply condition and restore the hair fiber. Its all-natural with a replumping and densifying action gives strength, volume and structure to the hair.
PLANT-DERIVED HYALURONIC ACID: Increases cell hydration, improves skin elasticity, reduces wrinkles, densifies and compacts the skin.
PLANT STEM CELLS: This advanced ingredient, inhibits the action of the enzyme 5-alpha reductase, which triggers the reaction responsible for hair loss. They also stimulate the activity of dermal papilla cells, which are responsible for hair growth and strength.