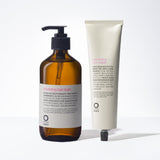 Oway Rebuilding Kit & Free Turban!

Rebuild Dry, Damaged Hair

Our Oway Rebuilding Kit is ideal for those with extremely dry, damaged hair. Not your average protein shampoo and conditioner - the innovative formula of Oway Rebuilding Hair Bath and Mask revives hair with the perfect balance of essential phytokeratin and hydrolipidic ingredients. Hair is never left starchy or dry. 
PLUS receive our NEW, Oway Quick Dry Hair Turban FREE! - Made with Certified OEKO TEX®, which means that it is sustainably and ethically crafted from our ultra-soft 100% organic cotton and manufactured in a verified safe working environment.
This honeycomb textured hair towel allows for maximum absorbency, reducing drying time, frizz and static! The shape makes it easy to wrap the hair firmly, but delicately. It is embroidered with the iconic Oway logo — a symbol of your commitment to beauty, wellness, sustainability and fair trade principles. 
Details
♥ Delicately cleanses hair without stripping natural oils
♥ Restructures and strengthens weak, compromised hair
♥ Seals and protects the hair against further damage and split ends
♥ Hydrates hair with nourishing plant butters
♥ Restructures and strengthens weak, compromised hair with plant-based keratin
♥ Packaged in infinitely recyclable amber glass to protect ingredient integrity
♥ Cruelty-Free & Vegan
Key Ingredients 
Organic Basil Essential Oil moisturizes and strengthens the cuticle, while promoting physical and mental relaxation.
 
Biodynamic Iris Flower refreshes and invigorates dull, dry hair with the presence rhizomes, which favor hair cell renewal and regeneration.
 
ProDew500® is a revolutionary blend of amino acids that supply hydration, strength and structure to weak hair.
 
Sugar Cane Oligosaccharides has a unique molecular weight and structure which enables moisture and nourishment to penetrate where the hair needs it most.
Phytokeratin is a plant-based complex of 18 biomimetic amino acids with a low molecular weigh that exactly replicate hair's natural keratin structure. It acts as "intracellular cement" to strengthen and repair weakened areas of the cuticle and cortex.
 
Biodynamic Lavender Essential Oil regenerates and rebalances the hair and scalp, while providing relaxing aroma therapeutic benefits for the body and mind.
 
Amazonian Plant Butters of Murumuru and Babassu Oil provide immediate shine and hydration to weak, lackluster hair.
 

How to Use 
Apply Rebuilding Hair Bath to wet hair, massage in and rinse. Repeat if necessary.

Spread Rebuilding Hair Mask evenly and leave on for 5-10 minutes.
Rinse
Wrap hair with Oway Quick Dry Hair Turban and let dry.